BABY SIGN LANGUAGE IN ASHBURN & IN YOUR HOME
​SIGN LANGUAGE:
•    REDUCES FRUSTRATION
•    PROVIDES A STRONG FOUNDATION FOR EARLY LITERACY
•    STIMULATES INTELLECTUAL DEVELOPMENT
•    HELPS BABIES TALK SOONER… AND BOOST SPOKEN VOCABULARY
Weekend Workshops:  This one-day baby sign language workshop will cover two topics such as Basic/Mealtime signs, Bedtime/Animal signs, and Playtime/Dressing signs.  It is a great introduction to sign language for moms, dads, grandparents, and caregivers.  90 Minutes of signs, songs, and activities focused on learning and using signs to facilitate communication!  A packet with written and picture descriptions of all signs learned is included.  Baby sign language classes held in Ashburn, VA.  Cost: $60 for one child and up to 2 adults, no extra charge for twins.
Private Group Workshops: Same as our Weekend Workshops except you pick the topics and friends and we come to you!  Workshops are very easy to organize and everyone has a great time learning together.  For more information, contact us!
Teacher Trainings: Teachers will learn over 50 signs and how to build a solid foundation for language development.  Through hands-on activities, teachers will leave feeling ready to incorporate signs into their classroom and to provide support for parents to carry them over at home.  The strategies discussed in this training will help teachers teach children with delays and will also benefit their typically developing peers.
More about our workshops: At Little Hands, we don't just teach you 50 signs, we teach you how to use signs to facilitate language development all throughout your day.  From breakfast to bedtime and every time in between, you can feel confident communicating with your baby or toddler.  During this workshop you will learn about speech and language milestones, when to seek help, and activities used in speech therapy to promote communication.  Our workshops use American Sign Language (ASL) signs, not baby signs.  These are the same signs your child will see at daycare, elementary school, and high school ASL classes.  Workshops are geared towards both parents and children.  I suggest taking the workshop when your baby or toddler is most receptive to learning and using sign language, usually between 6 months and 2 ½ years of age.  However, younger babies are welcome too and many parents are eager to start learning early.  Each family will receive a packet of signs (including photographs) and songs as well as ideas of activities to incorporate sign language throughout your day.  Workshops are held in our home office throughout the year or upon request for your private group.
Want more information?  Read our Baby Sign Language FAQ!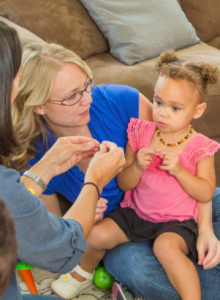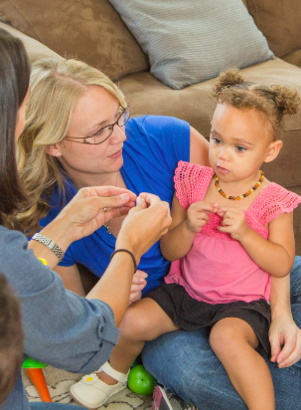 2017 Workshop Schedule
Private Workshops
Teacher Trainings
by Appointment Only.​